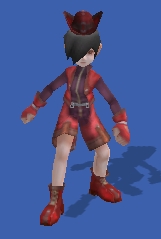 Acrobats are ranged fighters that utilize Bows or Yoyos as their weapons. Arrows used for bows are consumed as they are used and must be repurchased once a player's amount of arrows has been depleted.
Yoyos have a shorter range than bows, but longer range than melee-ranged weapons. Both weapon types are two-handed, disabling the Acrobats' use of shields with their usual weapons equipped. Their yoyo attacks also have a slight chance of knocking the enemy back. Skills used with Yoyos equipped consume FP, while Arrow skills consume MP.
Acrobats also have the second available AoE skill (at level 50), Arrow Rain. However, because of this skill's long cooldown time, it is used in conjunction with other AoEs which have similar cool down times. Acrobat abilities include slowing enemies down, quickly shoot at an enemy, firing a barrage of arrows, shooting accurately with a bow, stunning opponents, making an enemy bleed (continuous loss of life for a few seconds), countering an opponent's attack, stealing the opponent's money, running faster, and turning invisible for a short moment.
Acrobats can become Jesters or Rangers at level 60.