---
---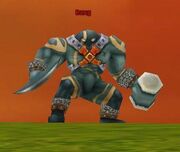 A Bang is a Masquerpet found in Flaris, and is the highest level monster on Flaris outside of the Mars Mine.
Bangs' attacks were once Area of Effect, and this gained them some infamy, as a malicious high-level player could gather a large number of Bangs and use their splash damage to kill lower-level players.
The Bang's quest item is the Golden Wing.
Captain Bang
Edit
Boss Bang
Edit
Giant Bang
Edit